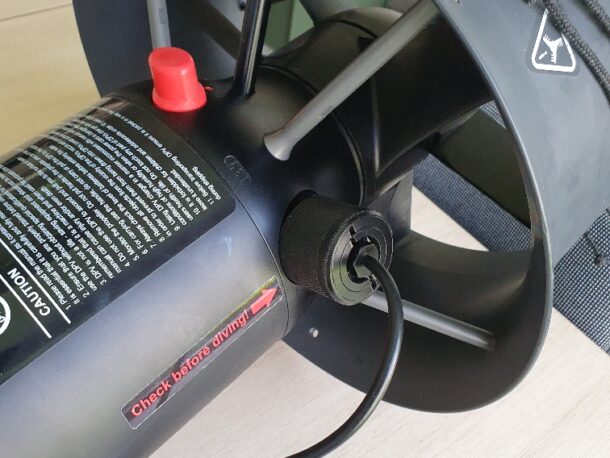 Big battery-
use it as you want
E/O power outlet allows to use Seacraft scooter, as a big battery pack- for heating system, or lighting.
Moreover, the outlet is fully steered from DPV steering panel allowing to choose power, turn it ON/OFF, and monitoring remaining battery %, consumed power (in Watts), and calculation of remaining time to use- counting, both E/O power intake, and DPV motor operation.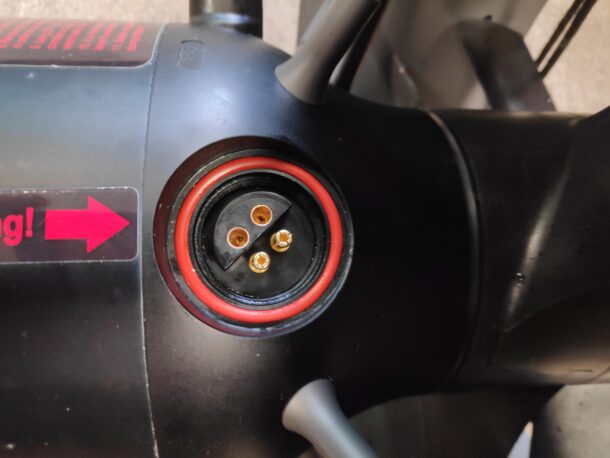 In order to improve overall safety, and even in case of cable failure- do not compromise DPV's systems, Seacraft decided to design and develop a hermetic charging port connector.
It is waterproof up to 10 bar (110m), and prevents any flooding possibility.
E/O cord adapter is connected there, with a compatible connector standard.
The hermetic charging port is reverse-compatible with all Seacraft scooters.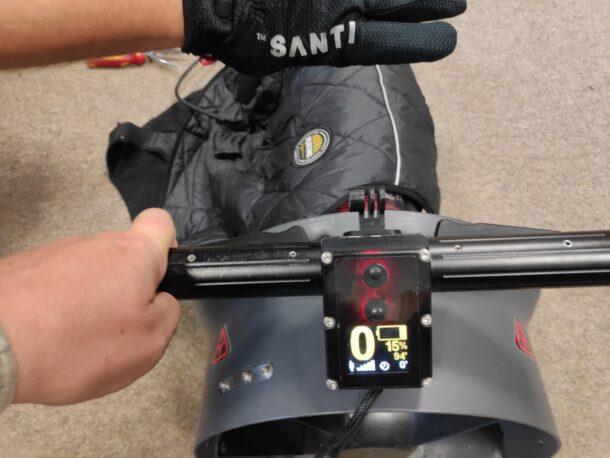 Full control
of your power
With the dedicated software, you can see exactly how long a connected system can work with chosen power.
Seacraft E/O outlet is dedicated specially for heating systems- thus we created a special voltage-output regulation system.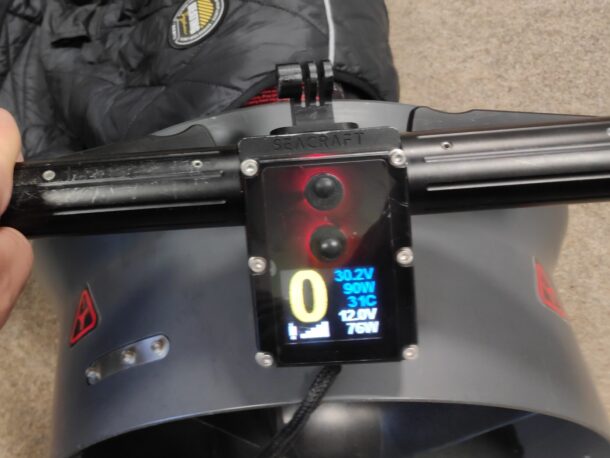 You can choose during the dive between 5 levels of voltage output, tuned to correspond with 20%, 40%, 60%, 80% and 100% heating power of 12V systems
It corresponds with voltage steps of 6.0V, 7.5V, 9.4V,  10,7V, 12V.
In case of using a lighting system- a 12V output allows for connecting most of 14,4V and 11,1V light heads.
Maximum power allowed from the output is 140W.
Compability and installation

Seacraft power outlet requires an internal power converter to be installed to the electronic chamber. In the moment, this operation is performed only in Seacraft factory, and by chosen authorized service points.

Power outlet can be added to every Seacraft scooter which is model 2020 – what means, that it's serial number is higher than 128.

These units electronic board was designed to allow for E/O outlet installation.

In order to have a power outlet in Your scooter, there are following proceeding ways:
For new scooter ordering- notify your dealer that you would like to have E/O outlet installed in the factory. It will be assembled- with an additional surcharge.
For upgrades of existing Seacraft scooters:
Check if your scooters S/N is higher than 128
Contact Seacraft, or your dealer
In order to add a power outlet, you need to upgrade also your charging port, and charger connector- don't forget to include a charger with DPV delivered for upgrade
As hermetic charging port requires a shorter charging port cap- check if your cap has a hole in it. If not- a new one, or existing one modification is needed.
I have a Seacraft scooter S/N 159. What i need to do to have a heating system outlet?

You need to install first a hermetic charging port, and change the charger connector for compatibile one. Afterwards, power converter can be integrated into your scooter's electronic plate, and software updated for one able to steer with power output. (v3.0)

If your charging socket cap is too long- or it need to be shortened by Seacraft service, or a complete new cap is to be used.

You can check this in a simple way- if Your charging cap has a factory-made hole in it (for a piece of line) it is a good one, and do not need to be changed.

After this conversion, any time you need a power output- simply screw-in E/O cable adapter. Scooter can be also used without it- closed with charging port plug.
For additional questions- see our FAQ below.
Pricing

Current pricing is a special offer for first E/O outlets series. It may be changed without notification.
Power converter with E/O cable output (70cm) - installed in new Seacraft scooter
520 EUR
Power converter installation in Seacraft scooter, together with E/O cable output (70cm)
520 EUR
Hermetic charging port installation, and charger connector replacement (without charger)
120 EUR
E/O cable output- adapter + cable only
230 EUR
Charger socket cap - "model 2020"
50 EUR
Charger socket cap - modification to fit with heretic charging port
20 EUR
Pricing
Pricing does not include taxes (VAT) or shipping and packaging. Pricing is valid for the EU countries, and presented in Euro currency. For other countries please contact directly our Dealers or Distributors. Please note that it is presented as indication only.