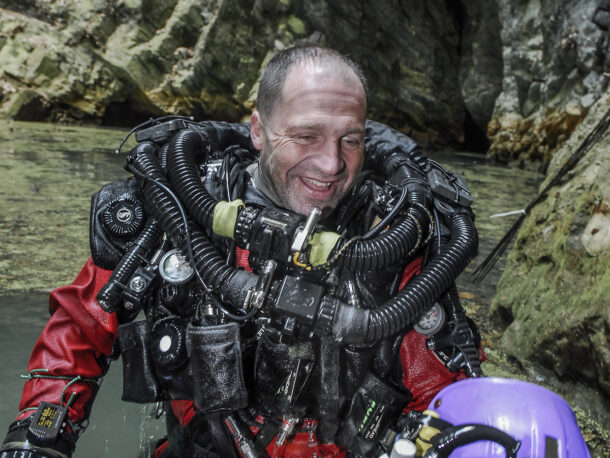 Krzysiek does not need to be introduced too much to the public, being a living diving legend. His pioneer deep cave diving explorations are known that when everybody thinks that the limit has been reached, Krzysiek moves it further.
Winner of the Colossus in the "Achievement of the Year" category (1999) for making the deepest Polish diver (131 m) in the Hranická propast cave in the Czech Republic and distinctions in 2000 for breaking this record by 50 m. In early December 2011, he set the world record for closed-circuit diving at 283 meters. On October 1, 2012, he dived to a depth of 223 m in the underwater cave in Hranicka propasti, setting a new Polish record.
Once again, Starnawski made the depth of this cave on September 27, 2016 – 404 m, which makes it the deepest submerged (underwater) cave in the world. The diver took aim, descending 200 meters deep into the crevice in the rock formation, and then using the GRALmarine remote-controlled robot-water robot constructed by Bartłomiej Grynda. In November 2016, he was nominated for the 2017 National Geographic Traveler of the Year award.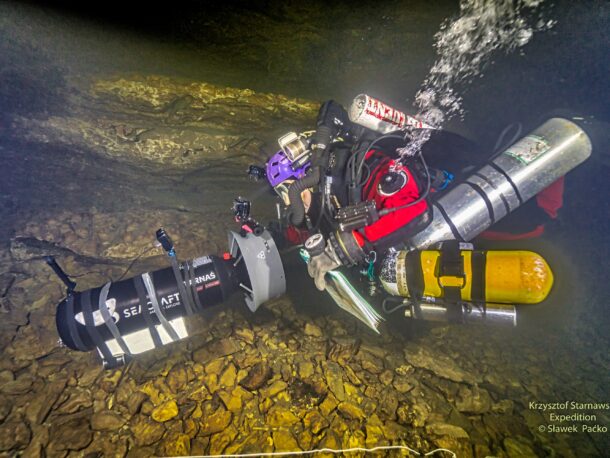 Pushing the boundaries deeper, requires also the best equipment available. Since 2018 Krzystof uses Seacraft scooters, what helped in following projects:
2018: St Sauveur cave – over 650m distance explored  on depths over 200m
2018: Garda lake – deep dive to 303m
2019: Sorgente Gorgazzo, exploration to 222m depth
2019: Gould du Pont, over 450m explored after fissure-restriction on depths >190m
2020: extensive mapping in Mexico using ENC2- searching for Dos Ojos- Sac Actun underwater connection.
SEACRAFT EQUIPMENT
On big depths- where diver's work greatly raises CO2 risks- a reliable DPV is a must. Moving with a lot of equipment- dual rebreathers- require high pulling force, in order to move fast, and cut the decompression obligation. Last but not least- mapping on such depts was so far a extreme challange.

With Seacraft equipment all of this biggest challanges seem to be a matter of past.