nationality:
Portuguese/South African/American
Holder:
World depth record from 2005- 318m, Cave diving depth record from 1996- 283m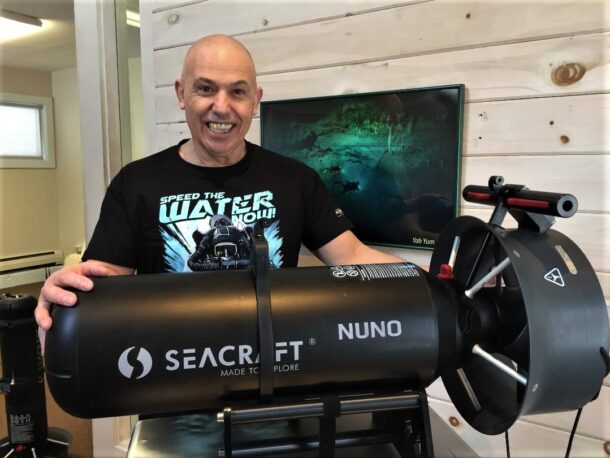 Nuno Gomes was born in Lisbon, his family relocated to South Africa when he was 14 years old. He now lives permanently in New York, United States of America. Growing up on the Portuguese coast he practically lived in the sea and learned to swim and spearfish in the temperamental Portuguese Atlantic Ocean. In the Pretoria / Johannesburg area of South Africa, landlocked, cave diving was a natural progression. Nuno joined and pioneered many cave diving and sea expeditions. He dived in all the known water filled caves and the sea around Southern Africa. He went on to dive all around the world, in caves, wrecks and in the sea.
Nuno Gomes

Seacraft
My Seacraft scooter is very well engineered, it is the best scooter that I have ever used. It is professionally designed, reliable, robust, durable and yet, easy to maintain, even underwater. It great for wreck diving, specially the bigger wrecks and also for cave diving. Seacraft scooters can cover distances of up to 24 kilometers (15 miles) on one battery charge. My accessories include a sophisticated digital navigation system includes a compass, distance meter, depth gauge and bottom timer. It is possible to record the statistics of a dive. After diving, one can view the dive profile, as well as the route followed on the navigation system. It's the only scooter that has successfully reached depths in excess of 300 meters (1000 feet).