Location:
Playa del Carmen, Mexico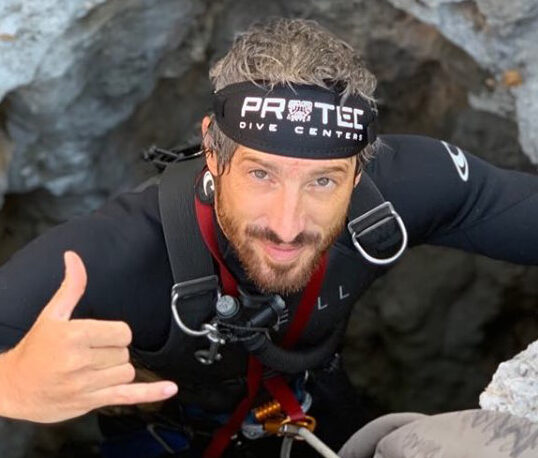 Born in Austria, started diving in 1998, a dive guide since 2002 – when he also moved to Egypt and began his professional diving career. Inspired by Bill Stone's activity and his books, Patrick got increasingly interested in technical and cave diving. After completing cave courses and starting to dive with the use of rebreathers (his first unit was ISC Megalodon), he moved permanently to Playa del Carmen in Mexico, where he has been staying since 2007.
Patrick is one of the owners of ProTec Dive Center, an active diving instructor, as well as an instructor trainer, evaluator and member of the advisors board of PSAI – a well-recognized scuba diving federation. He is involved not only in diving classes, but also in dozens of exploration projects all over the world. He has dived, conducted or participated in underwater exploration projects in 14 different countries, most of which happened in Mexico, Dominican Republic and Madagascar. He also often visits Europe during summers, where he may be found in France, Spain or Austria.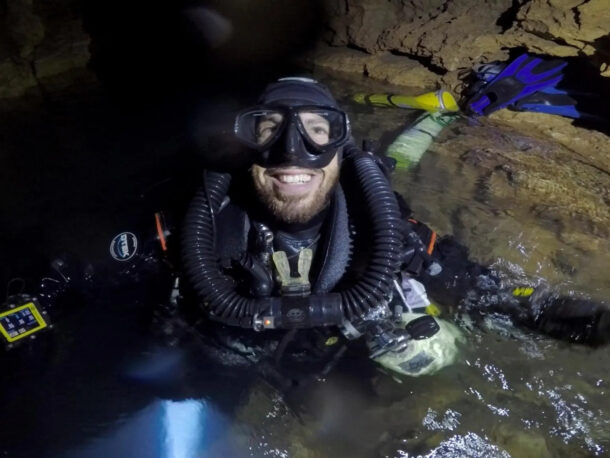 Deepest cave
in Dominican Republic
Interestingly, Patrick was the diving safety officer for the Polish record dive made by Leszek Czarnecki in 2009. Czarnecki set a record in cave diving distance conducted in Mexican cenotes where he had covered the distance of 17km using an open circuit.
Patrick is also the record holder for the deepest cave dive in Dominican Republic. He dove for a depth of 100m in 2015, during one of the explorations he conducted in this area.
Dive was made in the second sump of an unknown and hard to reach cave somewhere south from Puerto Plata town. The last part of the road to the cave entry was on foot and required the use of horses to transport all the gear.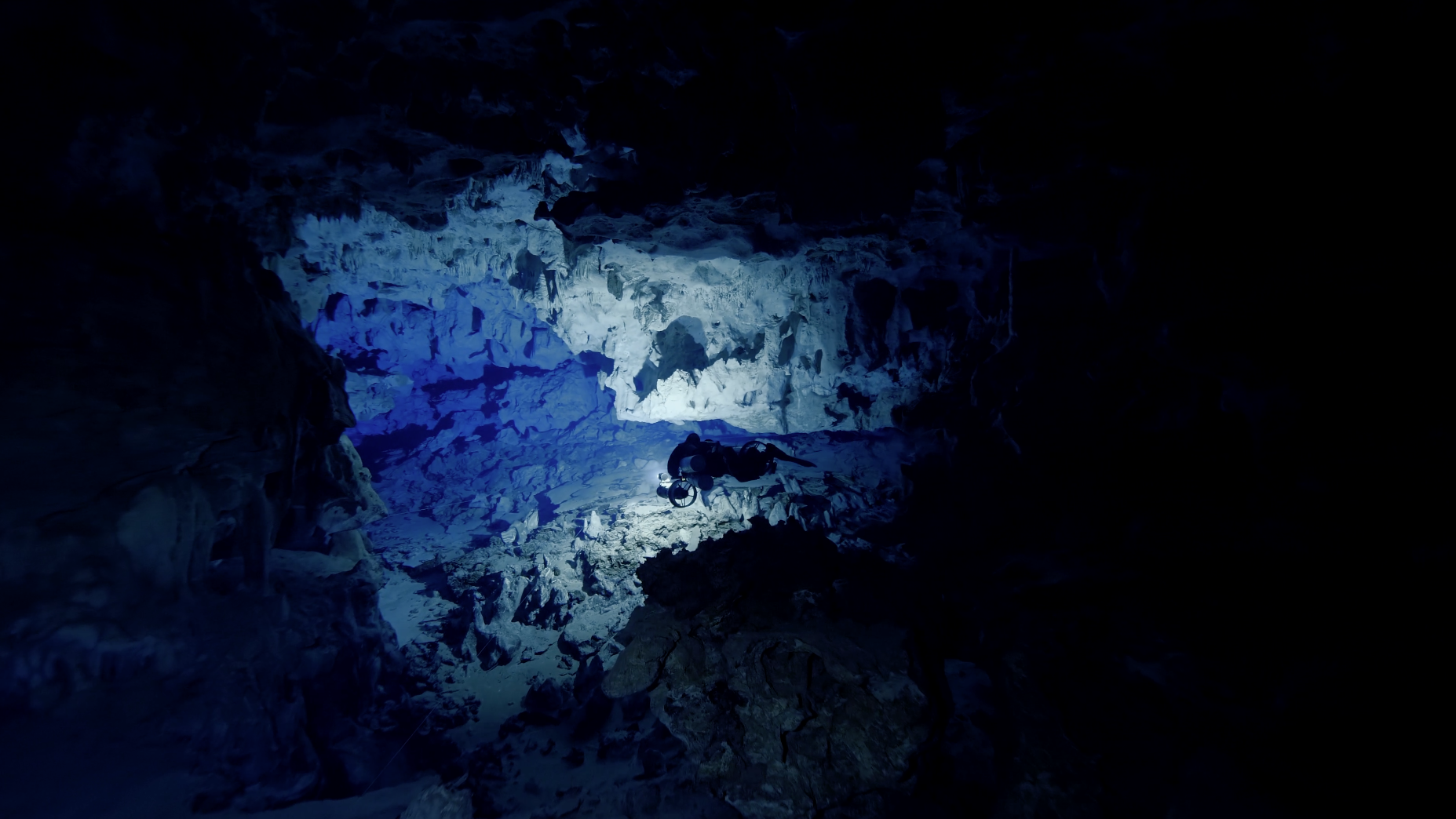 It seems that difficult logistics may be a common thread for Patrick's exploration.
All recent trips to Madagascar are logistically very complex and also include very difficult access to the cave entrance. Actually, just watching it on the videos may be tiring.
This is where Patrick finds the biggest benefits of Seacraft scooters. Lightweight machines can be much more easily transported to the diving spot. Always reliable and long-lasting batteries allow for several dives without the need to extract scooters from the cave for charging. 
Seeing the results of such dives in the Spirits of the cave movies, we all know that having the best and most reliable equipment is paramount to making these difficult explorations possible.
Future's fleet

For projects in Madagascar, Mexico and Europe, Patrick uses an extensive fleet of lightweight yet powerful Future series scooters.
Exploration as an ultimate goal

Over years, Patrick has gathered extensive experience of numerous cave explorations:
2005 Reef Formation Study on Gorgonian Reef (-100M/-330FT to -85M/-280FT) Hurghada, Egypt
2005 Black Canyon Mapping Project (-120M/-400FT) Hurghada, Egypt
2006 Mapping the Interiors of the Wreck Hebat Allah (-45MSW), Hurghada Egypt
2007 Cave Exploration in Akumal and South of Playa del Carmen, Mexico
2007 National Geographic video documentary production safety diver, Playa del Carmen, Mexcio
2008 "The Pit" Deep Cave Diving Project (105MSW/350FT) Playa del Carmen, Mexico
2008 AIDA sponsored international free diving competition deep safety diver, Bacalar, Mexico
2009 "The Pit" Deep Cave Diving Project, one hour bottom time at an average depth of 90MSW/300FT with use of decompression habitat, Playa del Carmen, Mexico
2009 Cenote 307 Exploration Project, Playa del Carmen, Mexico
2009 Polish distance record 17km, Diving Safety Officer, Playa del Carmen, Mexico
2009 Diving Safety Officer for Tube Inspection Project, Toluca, Mexico
2010 Exploration Project Cenote Balan Ak, Chemuyil, Mexico
2010 Exploration Project Cenote Palomita, Chemuyil, Mexico
2010 Exploration Project Sistema Lycka, Tulum, Mexico
2010 Exploration Project Sistema Lorenzo, Playa del Carmen, Mexico
2010 Exploration Project Sistema Under the Bridge, Playa del Carmen, Mexico
2010 Designed Cave Diving Specific Sidemount Equipment named Stealth
2011 Exploration Project Sistema Lycka, Tulum, Mexico
2011 Exploration Project Sistema Ek Be, Akumal, Chemuyil, Mexico
2011 Deep Cave Exploration (230ft/70m) and archeological research project, Cara Blanca, Belize
2011 Exploration Project Cenote Sand Crack, Tulum, Mexico
2011 Exploration Project Cenote Rojo, Tulum, Mexico
2011 Exploration Project, Systema Maya, Tulum, Mexico
2011 Together with Polish Equipment Manufacturer XDeep designed and developed the STEALTH 2.0
2012 Exploration Project, Cenote Ak Tulum, Tulum, Mexico
2012 Exploration Project, Cenote Caterpillar, Muyil, Mexico
2012 Exploration Project Cueva Mulata, Bayahibe, Dominican Republic
2013 Exploration Project Cenote Caterpillar, Muyil, Mexico
2013 Exploration Project Cenote Drunken Snake, Muyil, Mexico
2013 Exploration Project Sistema Chi Keen, Muyil, Mexico
2013 Exploration Project Sistema Choko Pek, Tulum, Mexico
2013 Exploration Project Sistema Nohoch Pek, Muyil, Mexio
2013 Exploration Project Sistema Doggi, Muyil, Mexio
2013 Exploration Project Sistema Escalera, Cabarete, Dominican Republic
2013 Exploration Project El Torro, Bayahibe, Dominican Republic (extended cave to over 10.000ft in a 9h sump project)
2013 Exploration Project Cenote la Bajada, Sistema Caterpillar, Muyil, Mexico
2013 Exploration Project Cenote Style, Sistema Doggi, Muyil Mexico
2014 Exploration Project Sarodrano, Tulear, Madagascar
2014 Exploration Project Binabe, Tulear, Madagascar
2014 Exploration Project Aven, Anakao, Madagascar
2014 Exploration Project Vintany, Itampolo, Madagascar
2014 Exploration Project Malaza Manga, Anakao, Madagascar
2014 Exploration Project Cenote El Mango, Tulum, Mexico
2014 Exploration Project Cenote The Nest, Muyil, Mexico
2014 Team Expedition to Mahafaly Karst, Nat Geo Film and Science Project, Anakao, Madagascar
2015 Exploration Project Cueva Negra, Bayahibe, Dominican Republic
2015 Exploration Project Cueva Taina, Santo Domingo, Dominican Republic
2015 Exploration Project El Toro, Bayahibe, Dominican Republic (climbed 2nd dry cave in 11h sump project)
2015 Exploration Project Hoyo Binet, Bayahibe, Dominican Republic
2015 Exploration Project Cenote Galaxian, Muyil, Mexico
2015 Exploration Project Sistema Tres Rios, Playa del Carmen, Mexico
2015 Exploration Project Nacimiento del Rio Sonador, Puerto Plata, Dominican Republic (deepest cave of the DR 330ft/100m)
2015 Exploration Project Nacimiento del Rio Balata, Los Haitises, Dominican Republic (max 170ft/52m)
2016 Exploration Project El Zebu, Secret Location, Africa
2016 Exploration Project Parazyte Lake, Secret Location, Africa
2016 Exploration Project Malaza Manga, Anakao, Madagascar (expanded cave to 13.000ft, max depth 158ft/48m, on CCR)
2016 Installment of first under water paleontology museum in Aven cave, Anakao, Madagascar
2017 Exploration Project Anjanamba, Tulear, Madagascar filmed Spirits of the cave One (https://youtu.be/eDYdchsrLEo)
2017 Various small Projects in Muyil, Q.Roo, Mexico
2018 Exploration Project Haiti, found deepest cave of Hispaniola currently 110m/360ft deep with more depth potential and strong flow
2018 Exploration Project Anjanamba, Tulear, Madagascar filmed Spirits of the cave Two (https://youtu.be/A_4OO5kNhGg), made Anjanamba the longest submerged cave of Africa
2018 Various small Projects in Muyil, Q.Roo, Mexico
2019 Exploration Project Anjanamba, Tulear, Madagascar filmed Spirits of the cave Three (https://youtu.be/_O5gLZzPZbU), cave is now over 10km/33k ft long with a single entrance!
2019 Various small Projects in Muyil, Q.Roo, Mexico
Patrick Widmann

Activities