Future is the flag model of Seacraft brand. It includes a 750W or 1000W battery which allows extended use of the power of the scooter, on average 2-4 dives without charging the battery. This model is perfect for recreational and technical diving up to a depth of 150m. It also works well in scooter rentals located in diving bases and clubs around the world.
Due to only 15,9kg weight, it is a lightest so powerful DPV available on the market.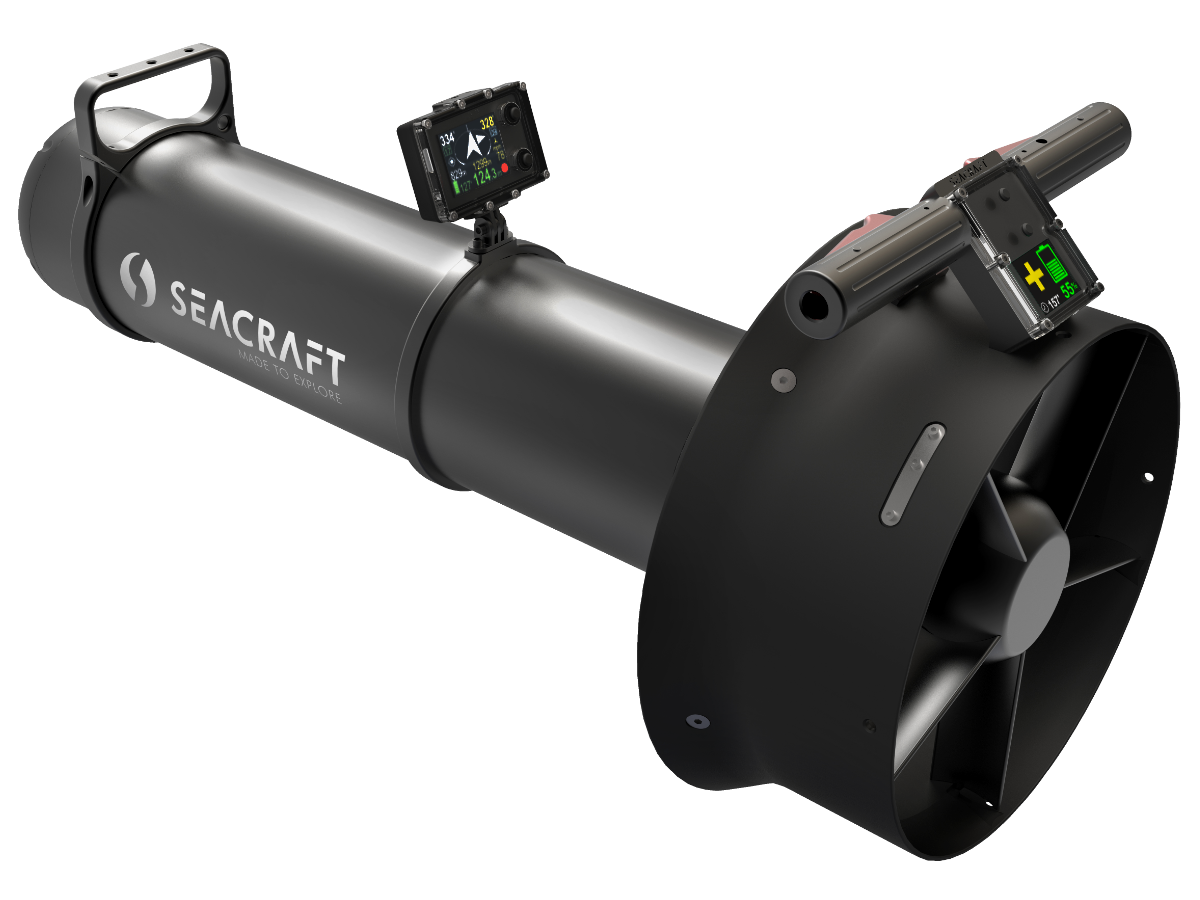 It's the lightest (only 16kg with battery), the fastest and most compact scooter in its class currently available on the market. Its additional advantage is the long range of diving, which was achieved mainly by the high efficiency of the drive unit and the high power of the battery.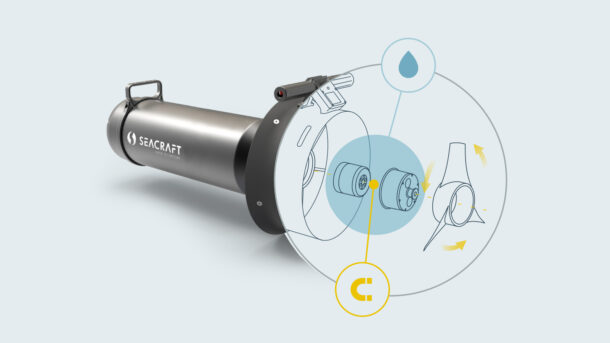 Magnetic propulsion
The most unique element of Seacraft construction is its motor which operates directly in the water.
Specially designed and patented solutions allow complete elimination of the drive shaft and the need for unreliable seals and gear transmissions used in other DPVs.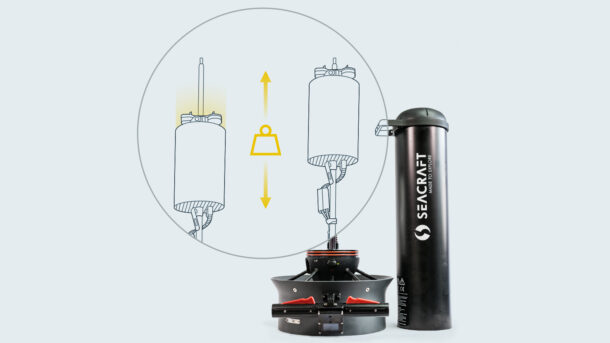 Easy trimming
Seacraft allows for easy adjustment of weight, in order to trim it for fresh, salt, mixed, or whatever water you need to operate in, accounting personal preferences of diver.
Full one-handed control
Seacraft steering allows using only one hand to control all the options – acceleration, deceleration and motor activation. Either left or right hand can be used for that.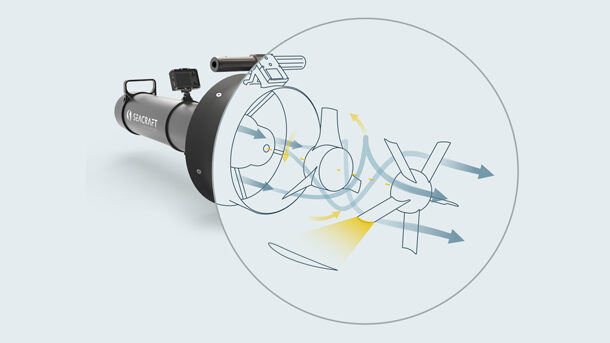 Post-swirl stator system
Seacraft scooters use innovative stator system, inspired by jet engine construction. It provides zero turning force on the scooter's handle at all speeds range and increased efficiency of drive system- resulting in ~8% more thrust.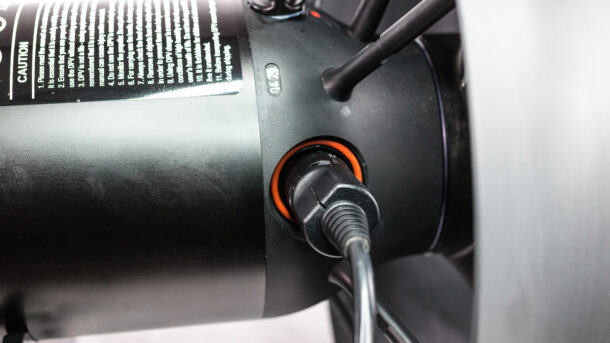 External charging port
External charging port enables quick charger connection without having to disassemble the entire unit for charging.
Basically, there is no need to open the scooter any more – except for internal trimming. Humidity sensor in electronics chamber additionally allows for easy inspection of DPV's interior without hull disassembly.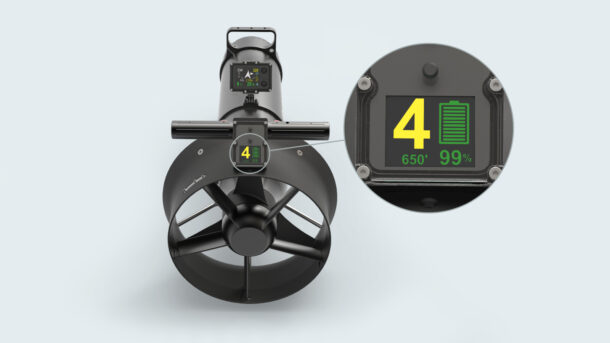 Burntime display
Remaining burntime is being constantly calculated, taking current gear and engine load into account – enabling a safe realisation of the diving plan.
Working time at optimal speed:
FUTURE 750
>260 min. (45m/min)*
FUTURE 1000
>350 min. (45m/min)*
Working time at maximum speed:
FUTURE 750
>70 min. (gear 9)*
FUTURE 1000
>95 min. (gear 9)*
* Applicable in terms of a diver in a twinset 2x12, in a dry suit, in fresh water. Range tested for optimal speed.
Average time of charging 90%:
Average time of charging 100%:
Charger operating voltage:
FUTURE 750
230 V / 50Hz / 240 W
FUTURE 1000
230 V / 50 Hz / 230 or 400 W**
** Depending on the order.
Weight without battery and ballast:
Weight with battery and fresh water ballast:
Correct displacement (with adjusted ballast):
Level / Trim (with adjusted ballast):
Temperature while charging:
*** At temperatures below 0⁰C, due to properties of lithium cells, the battery capacity and hence the scooter's performance can be significaantly reduced it. It is a reversible poccess - after raising the temperature of the battery to temperature level above 0⁰C the capacity of the battery returns to the nominal capacity.
Li-Ion Battery
750 Wh / 1000 Wh
POM Transport
 bracket
fi 160
Universal sports
 camera mount
attached to the control module
Internal scooter 
ballast
basic module
Trimming weight
62g – 3 additional pieces
Trimming weight
182g – 2 additional pieces
Scooter harness
1,8m with carabiners
and two adjustment plates
Spare parts
set of seals and grease
 for seals
Service tools
basic module
Future Air-Travel 600
F2041
6500 EUR
Future Air-Travel 800
F2042
7000 EUR
Pricing
Pricing does not include taxes (VAT) or shipping and packaging. Pricing is valid for the EU countries, and presented in Euro currency. For other countries please contact directly our Dealers or Distributors. Please note that it is presented as indication only.
Future

accessories and spares