NAVIGATION SYSTEM FOR PROFESSIONAL
The electronic navigation console ENC3-PRO is a system based on the Seacraft military-grade navigation console platform which allows for multi-waypoint navigation and underwater position adjustment based on a signal from an external GPS receiver.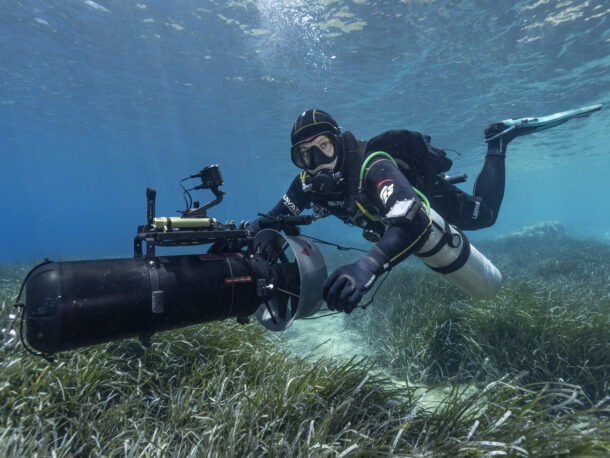 Military grade
navigation available for all divers
The ENC3-PRO originates from the ENC3-MIL, a navigation system available from 2019 for military and special forces divers.
As it proved to be extremely useful also for regular diving, Seacraft prepared this version as dedicated to civil and scientific users.
Depended of needs the ENC 3-PRO same as other Seacraft's navigation can be used both assembled on the scooter and without a scooter or with the surveyor tool.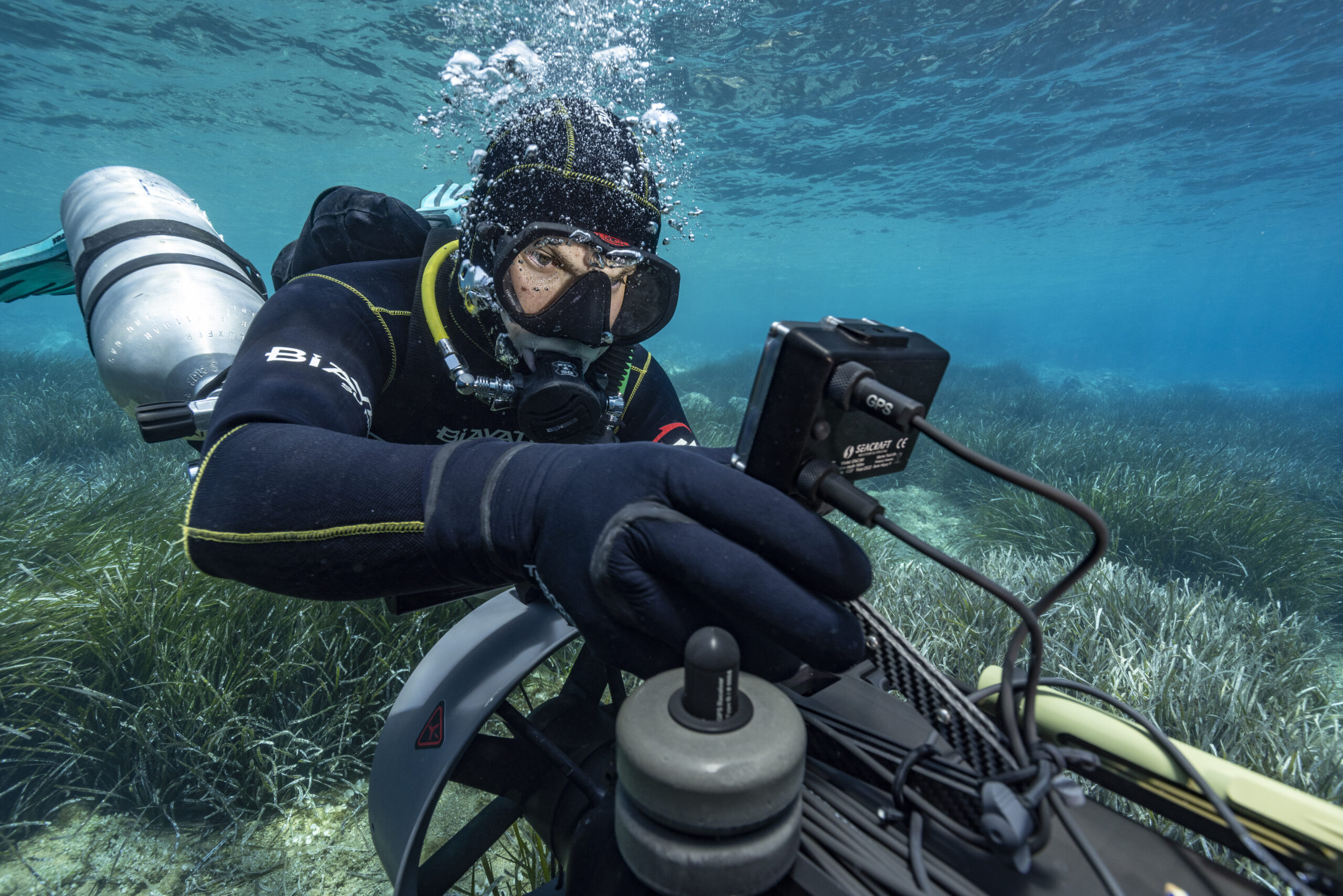 Underwater, there is no GPS signal reception possible – because all is absorbed by water. This makes underwater navigation much more complicated than typical car navigation and requires devices such as regular ENC3 which use dead-reckoning position calculation.
When the float is used and sent to the surface, the divers' real position is recalibrated, in order to compensate for possible drift from sea currents and have the real position updated.
Thanks to the version with a buoy and a 3 or 10m cable, GPS position can be obtained without a need to surface.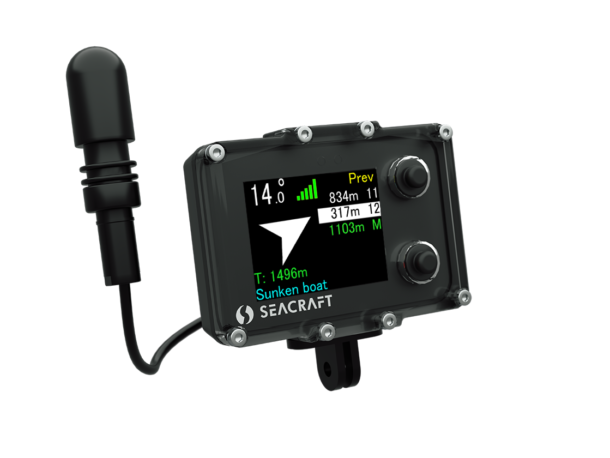 Modular construction

GPS TYPE B
The Electronic Navigation Console ENC3-PRO allows connecting a dedicated external miniature GPS receiver, which can be quickly connected in several ways to the console.
In the version with a short cable and a GPS module mounted directly on the ENC, recalibration can be made each time the diver surfaces, making it ideal for shallow dives, or other tasks.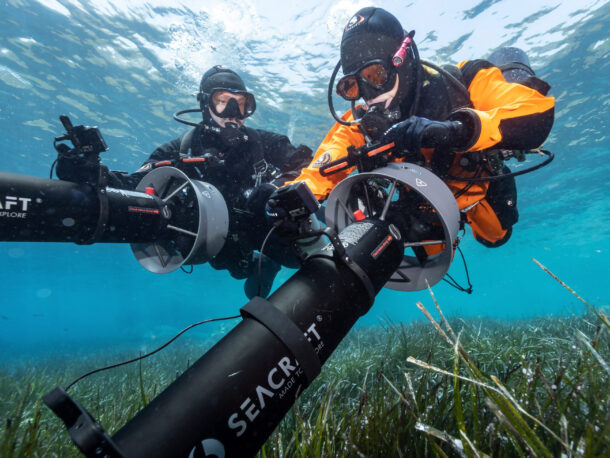 Underwater, any pre-set target can be chosen, at any moment to navigate to this specific point.
The ENC3-PRO calculates the diver's position underwater using the same method as the ENC3. When there is no GPS position available, it will use calculated dead-reckoning underwater data as a position source.
When the GPS signal is acquired with sufficient reliability, this position is re-calibrated as the so-called FIX position, and the ENC3-PRO will start further position calculation from this point on.
The diver may follow the pre-planned points one-by-one, or decide (based on the situation) where he wants to navigate.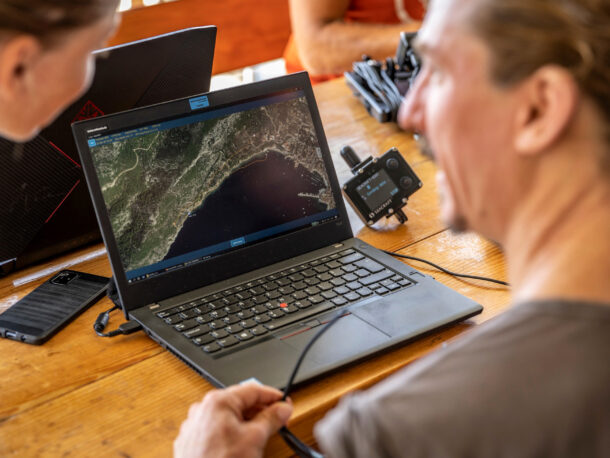 Route planning
and track visualisation
Up to 29 route points can be easily programmed using the freeware PC software. Points positions can be chosen directly on the map,  saved as GPS coordinates, or as azimuth/distance.
Each point can have a short text description that will be displayed on the ENC underwater. During the dive, any pre-set target can be chosen, at any moment to navigate to this specific point. 
After diving, logged tracks may be accessed and reviewed. Multiple export options are available, facilitating processing the tracks for example in Google Earth, GIS programs, or even accessing the raw data as .csv (Excel) format.
All obtained GPS positions are stored in ENC3-PRO memory, allowing detailed archeological or scientific survey.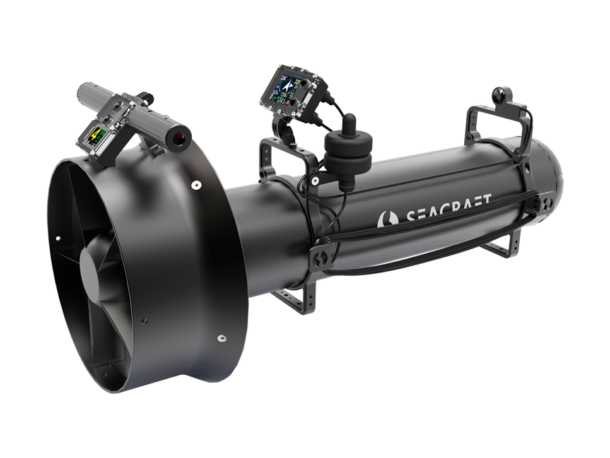 The miniature GPS type B module receiver provides a lot of installation options and allows for quick and precise position measurements.
The same module may be directly connected to the ENC3-PRO with a 0,1m cable or used with a 3 m, or 10 m long cable and additional buoyancy floats. Changing the cable is very simple and requires no tools.
3 and 10m cables can be easily winded on the dedicated winding holders attached to the DPV.
In the attached picture, you can see FUTURE 1000 with the assembled ENC3-PRO with GPS module float and winded-up 3m cable on winding holders on the scooter.
Depth of start and stop of immersion time counting:
ENC3 - PRO
Optional: 0.5, 1 or 1.6 m (compatible with the norm EN 13319)
Accuracy of depth measurement:
ENC3 - PRO
0.3 m in the whole depth range, temp. range: 0…30°C
Possibility of using above the water level :
Internal storage capacity:
ENC3 - PRO
50 routes, 29 programmed waypoints
Included sensors:
ENC3 - PRO
3D magnetometer, 3D gyroscope, 3D accelerometer, pressure sensor, temperature sensor
Satelite positioning:
ENC3 - PRO
GPS, Beidou, GLONASS
Data exchange:
ENC3 - PRO
via Bluetooth 4.2 and/or via USB cable
* The the measurement accuracy depends on the quality of the calibration and the absence of external interference.
Battery type:
ENC3 - PRO
Built-in Li-ion 3,7 V**
Average time of charging 100%:
** The device can use any 5 V DC power source as charger. When charging, it can consume up to 1 A current.
Temperature while charging:
Full set, dedicated to Seacraft scooters
Electronic Navigation Console
ENC3 PRO
ENC mounting bracket
dedicated to chosen Seacraft model
GPS float set
GPS float set dedicated to ENC3-PRO
SPARE PARTS AND CONSUMABLESS
Set for ENC3
Electronic Navigation Console ENC3-PRO - full set dedicated for Seacraft Future scooters
FE1114
3040 EUR
Electronic Navigation Console ENC3-PRO - full set dedicated for Seacraft Ghost scooters
GE1115
3090 EUR
Electronic Navigation Console ENC3-PRO (included soft case, charging cable for ENC3, charging port plug for ENC3 - 2 pieces, spare seals set for ENC3, professional non-magnetic mounting screw M5 (KIPP) - 2 pieces)
E1130
1940 EUR
GPS type B connecting cable - 0,1m
E1120
20 EUR
GPS type B connecting cable - 3m
E1121
33 EUR
GPS type B connecting cable - 10m
E1122
52 EUR
GPS cable winding holders (2 pcs.), attachable to the transport brackets
E1126
33 EUR
GPS type B float - to send GPS receiver to the surface
E1125
39 EUR
Professional non-magnetic mounting screw M5 (KIPP)
E1127
7 EUR
Professional 3-arm mounting bracket, attached to ENC
E1128
10 EUR
GPS module dedicated to ENC3-PRO - type B
E1020
546 EUR
Pricing
Pricing does not include taxes (VAT) or shipping and packaging. Pricing is valid for the EU countries, and presented in Euro currency. For other countries please contact directly our Dealers or Distributors. Please note that it is presented as indication only.
int(12)
int(12)
int(12)
int(12)
int(12)