THORSTEN "TODDY" WÄLDE

Toddy lives and works in Sardinia year-round. He is the owner of Protec Sardinia (Europe's Cave Training Facility) and creator of the TS sidemount system and designer for cave and technical diving gear. His work is cave diving and he lives from it in full, when he has time he explores the "Supramonte Karst Region" with passion and found already enormous cave passage and cave systems so far. He has already over 20 years of working experience as a professional cave instructor and trainer and countless exploration projects he did so far.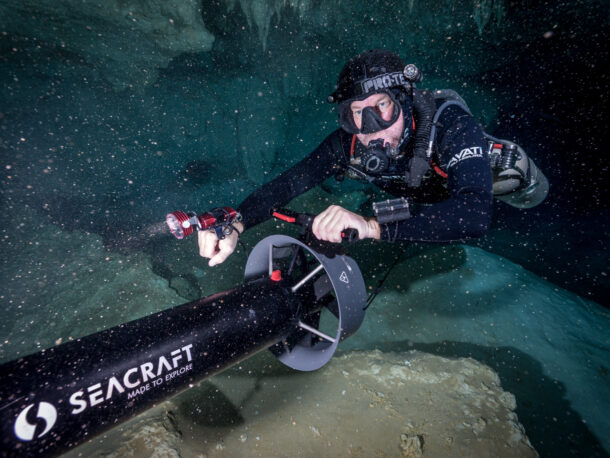 Toddy's passion for cave diving and exploration led him to deep sink holes in the jungles of Mexico's Yucatan, where he worked and lived for several years, gaining extensive knowledge in technical diving. Particular he searches new cave areas where he can explore caves. Some of the major exploration project is Vanilla Sky Project in Mexiko since 2013 he and his team explored over 70km of cave and document it. He tries to connect most of the caves to "Sac Actun" cave system, which is so far the second world's biggest cave system and biggest underwater cave system.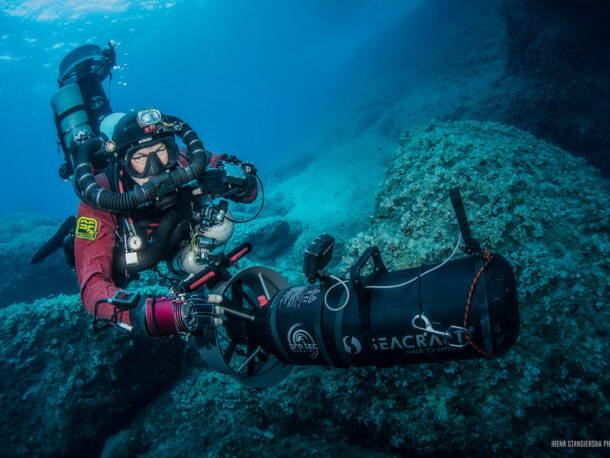 Another major project is "UTOPIA" one of the deepest and longest underwater caves in the Mediterranean sea. The goal is to take more scientific approach- with a team of specialized doctors for decompression physiology and researchers.
During push dives, there are various new-age techniques in decompression tested- which nobody did before. The ultimate goal would be to reach a single penetration of 10km in this cave as a solo mission in the near future, what seems to be possible- as Utopia cave exploration is a very challenging task, and no cave limit has been reached so far.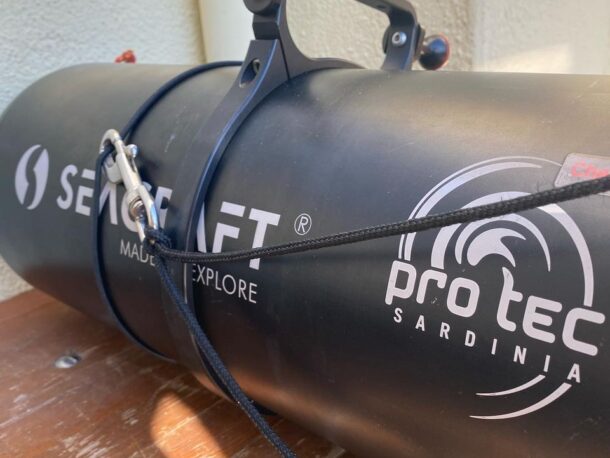 Equipment is the key to success these days and Seacraft scooters are a MUST for serious explorers worldwide.
Toddy was involved in the first seacraft prototypes testing, and he had the possibility toassist in units development from the beginning-to influence how an true exploration scooter should be created.
Toddy's

Seacraft

The Seacraft scooters helped him particularly in Mexican exploration projects and as a high standard in his "UTOPIA" Exploration (Sardinia).  Toddy need to trust his scooters in full and therefore he decided to work with Seacraft as an ambassador and test facility center
2016 Test center for Seacraft in Sardinia
2018 Used seacraft scooters for cave exploration in Mexico and Sardinia with distances over 5km of penetration
2019 Exploration in Bel Torrente where the team pushed multiple siphons with seacraft scooters
2019 Used in the "UTOPIA" Project and reached over 5km penetration and pushed cave further in -120m
2020 Used Seacraft scooters in the "Vanilla Sky Exploration" pushed a single dive to 1.7km in one dive so far the longest exploration dive in one dive a team did
I love all of the products from secraft and particularly  the GHOST 2000 which is just an outstanding scooter. It brought me to the end of UTOPIA and safe back home to my habitat.

Aas a back-up i can´t have a better unit as a seacraft Future 1000. Seacraft supports my UTOPIA scientific and exploration projects and we will use DUAL scooters in the next projects which i am glad that a real innovative company helps to provide equipment tailored for the goal. The tools like the ENC for navigation is just outstanding and there are so many new solutions coming…
2001 Quintana Roo documentaries for VOX and RTL covering the Mastadon Findings
2002 Quintana Roo Expeditions Film for Pro 7 and other Television Channels
2003 Yucatan Jungle Expedition (Deep Sinkholes of Merida)
2005 Exploration Cave System Bue Marino (Sardinia)
2005 Exploration Cave System Cala Luna (Sardinia)
2005 Exploration Cave System Bel Torente Start (Sardinia)
2005 Exploration Cave System Del Fico Start (Sardinia)
2006 Yucatan Jungle Expedition "Ring-Cenotes" (Prehistoric founds)
2007 Dschungel Camp Exploration "Tux Kubasha" (09.01 to 16.01)
2007 Advanced Diver Magazin Exploration Sardinia 2007
2007 Joroni Filming Project (Puplic CD-Tauchplätze Sardiniens)
2008 Exploration Cave System "Locoli" Siniscola (Sardinia Inland Cave)
2008 Exploration Cave System "Monsumazzo" Oliena (Sardinia Inland Cave)
2008 Exploration Cave Sytem "Bel Torrente" with Rick Stanton
2008 – 2015 Exploration Mainly done in Sardinia
2013 Exploration Camp "Vanilla Sky Project" in Mexico (Quintana Roo)
2014 Exploration Camp "Vanilla Sky Project" in Mexico (Quintana Roo)
2014 Exploration South Australia "World largest karst terrain "Nullarbor"
2015 Exploration Camp "Vanilla Sky Project" in Mexico (Quintana Roo)
2016 Exploration Camp "Vanilla Sky Project" in Mexico (Quintana Roo)
2016 GoPro Film Project "Searching the Maya Underworld – Quest for the earth´s biggest cave"
2017 Exploration Camp "Vanilla Sky Project" in Mexiko (Quintana Roo)
2018 Exploration Camp "Vanilla Sky Project" in Mexiko (Quintana Roo)
2019 Exploration Camp "Vanilla Sky Project" in Mexiko (Quintana Roo)
2019 Exploration "Supramonte Karst Exploration Project" SKEP "UTOPIA"
2019 Exploration "Supramonte Karst Exploration Project" SKEP "BEL TORRENTE"
Thorsten Wälde

Activities