Project name:
Supramonte Karst Exploration Project (SKEP)
Project type:
Cave exploration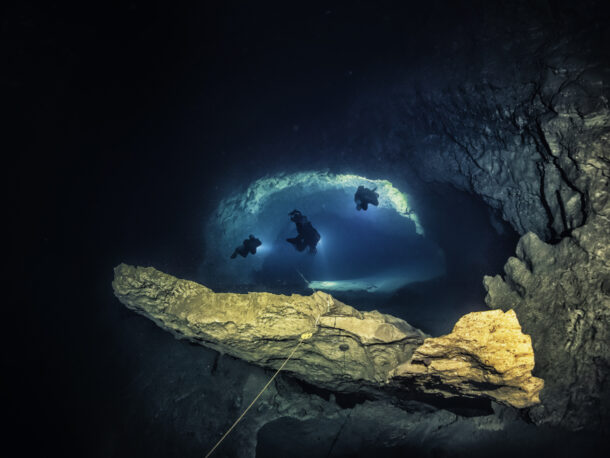 The Utopia exploration project is an ongoing and outstanding project that enables new findings and insights in different disciplines. To our knowledge, it is the first time in history that a cave dive of this dimension was performed with a complete team of divers, archaeologists, speleologists, filmmakers, physicians and scientific decompression researchers actively involved in the preparations and the dive.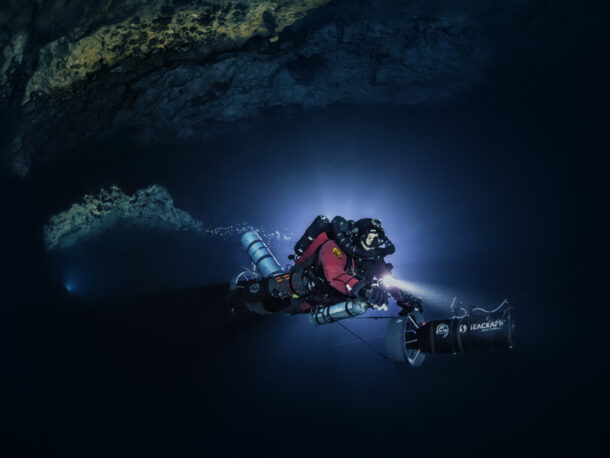 In July 2019, Toddy Wälde performed an exploration cave dive in the Utopia cave of the Supramonte Karst System in Sardinia. It was one of the longest single-entry cave dives with 5 km penetration depth, a complex multilevel dive profile with a maximum depth of 125 m and a duration of 11 hours. To prepare the diver optimally for this extreme exposition, he was preconditioned and treated with several known and experimental methods before, during and after the dive. At the end of the dive, Toddy surfaced healthily and in good condition without any complications.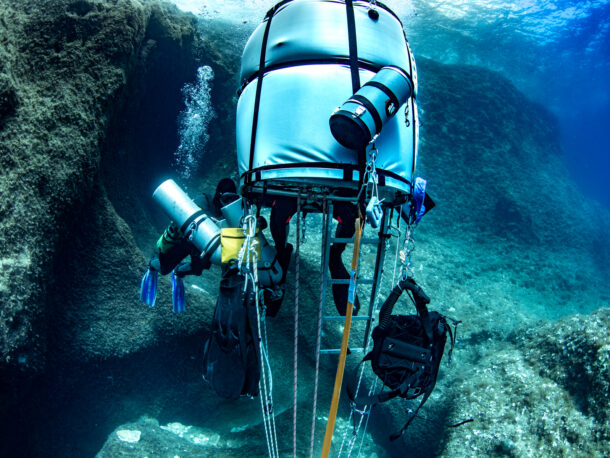 To enable this exploration with a maximum of safety, the planning, preparation and realization of this project were challenging. Several aspects had to be considered for such a long and difficult dive. Besides the technical and logistical issues, we had to focus on medical and physiological problems associated with such a dive profile. Since only the first part of the dive profile was known, the decompression plan had to consider many variables to get the diver back safely.
Moreover, profound pulmonary, circulatory and cardiac changes are induced by immersion in water. The diver had to tolerate and compensate for changes in pressure, temperature, nutrition and fatigue for many hours and diving at night. Finally, the diver's lung and central nervous system had to cope with the intermittent high oxygen partial pressure for hours and the enormous oxygen body toxicity.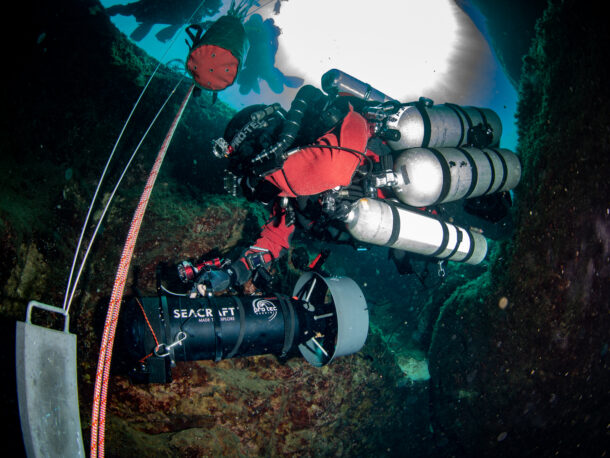 Therefore, Toddy's fitness and health status was thoroughly examined at the University Clinic Innsbruck (Austria) before the push dive. We performed inertgas diffusion gas analyses, special exercise physiologic testings and many more examinations and evaluations of all the above described organ systems. The University Clinic Innsbruck and the departments of emergency medicine, radiology, cardiology, pulmonology, exercise physiology and the olympic athletes institute are supporting this project with special diagnostics and professional recommendations.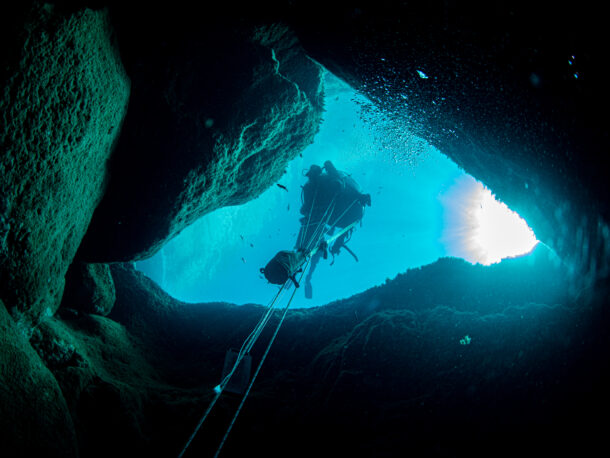 This cave system has a multilevel profile with several deep pitches and very shallow segments. Therefore, this dive is much more complex and requires different management. Based on the latest findings in decompression research, we modified and used different settings of gradient factors in the different depth segments, the adaption of M-values, ascent rates, oxygen stops before the shallow segments, the adaption of setpoints, gas switches and many more. Especially the adaption of the setpoint and a mixture of breathing gas was a compromise between rapid decompression and oxygen toxicity. Other strategies such as OPT (oxygen precondition time) before the descent were performed to minimize microbubble formation and to possibly reduce AHS (active hydrophobic spots).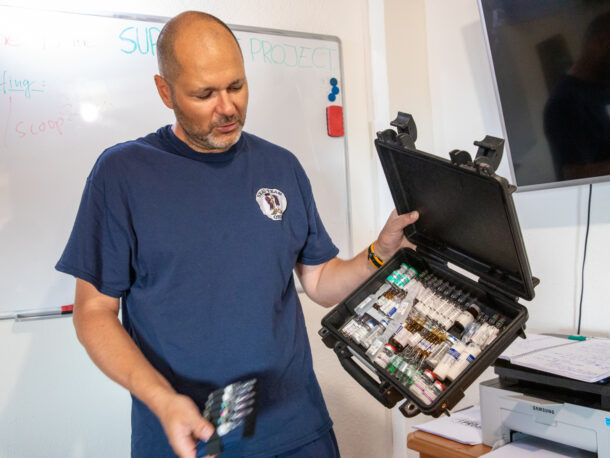 medications and decompression
Also, days before the dive we started the pretreatment of Toddy with several medications to improve his antioxidative system and to increase the seizure threshold. After exiting the cave, most decompression obligations were spent in a mobile habitat. During this time, Toddy was breathing intermittently very high oxygen partial pressures alternated with gas breaks with a special CPAP face mask for better ventilation and improved gas exchange. He was also treated with infusions and medications and decompression was monitored live with ultrasound. After a total dive time of about 11 h instead of the calculated 15 h Toddy surfaced without any problems.
the Utopia exploration project

documentary
Utopia dive into the unknown – documentary from the project is now enabled to watch the public.
EQUIPMENT USED IN THE PROJECT

One of the key aspects of successful the project was reliable Seacraft scooters with E/O powered outlets that help stay warm during their long decompression phase. During the expedition team was using Seacraft Future, Ghost and ENC3 navigation.
the Utopia exploration project
HIGHLIGHTS