Record:
Longest distance driven underwater on DPV, in 30 days- 454km
Location:
Croatia, Sveta Marina
Holder:
Janusz "Janiu" Czachor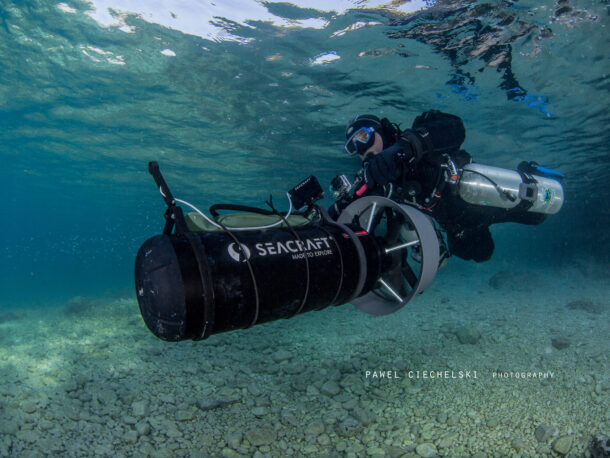 After 30 days and over 180 hours spent underwater, the participants of the 300ktodefy project finally achieved their goal- setting a new Guinness record, in the longest distance covered underwater using DPV for 30 days.
However, the record itself was not an ulimate goal. First of all, it was about raising awareness about Duchenne Muscular Dystrophy (DMD) and raising funds for a charity- to support Miłosz Klimczak treatment. Although the record was successfully set up, each of us can still help and make a donation at siepomaga.pl/silacz, becoming part of an extraordinary project that helps Miłosz.
Janiu travelled 450 km using Seacraft Ghost scooter, and for spending hours, driving- underwater, using best equipment possible was paramount.
What Janiu tells about choosing a right scooter for this attempt?
We started preparations to the project in 2017. After testing of many DPV models and brands, despite- in this time- that it was new product on the market, we decided to choose Seacraft.

It simply beats the hell out of all other constructions- by many factors. Most important for us, knowing that there is several hours daily of scootering ahead- was easiness of driving, and absolutelly no turning force on the hande was amazing thing. Reliability of drive system was also crucial, and we were positivly surprised how well Seacraft drive handled daily abuse in salt water.

The last part was ability to move fast for prolonged time- a key thing to really cover distance underwater, and there was just one scooter on the market capable to do this job. I am highly recommnding Seacraft for everyody.