Project name:
Sorgente del Gorgazzo
Record:
Exploration to 222m depth
Location:
Italy, Friuli-Venezia Giulia
1992
Dive to 131m depth by Jean-Jacques Bolanz
2008
Dive to 212m depth by Luigi Casati
2019
Dive by Krzysztof Starnawski to 222m depth. The cave continues...
On 5.09.2019 Krzysztof Starnawski made a dive to the depth of 222 meters in the Italian cave- Sorgente del Gorgazzo. The previous record belonged to the Italian Luigi Casati, who in 2008 made a dive to a depth of 212 meters.
To see on own eyes this dives- see Krzysztof video, to experience how smooth and beautiful record-breaking may look like.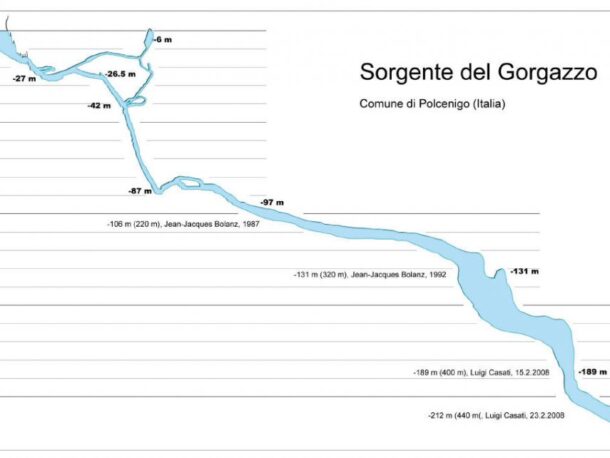 3rd  September Krzysztof Starnawski, supported by his own team and a local diving club – Centro Pordenonese Sommozzatori, reached a depth of 156 meters. The next day was spend on regeneration,  and final preparations for thepush dive. The record immersion lasted about 2 hours.
Conditions this days werv very favourable-  with crystal clear water, and low flow. Visibility on those days exceeded 20 meters. One of the reasons why Luigi Casati gave up further exploration was the strong currents underwater. Of course, this risk can be reduced by using a powerful scooter  during the dive.
As cave continues with wide open tunnel- this is not a last Krzysztof's word.