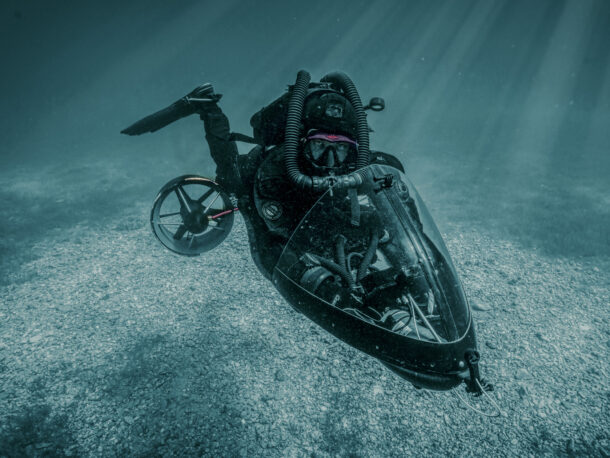 Diver Propulsion Craft
DPC is an answer for fast, lightweight, long-range, multi-use (surface and underwater) transport vehicle.
In order to move faster underwater, we created a fully hydrodynamic shielded high-power craft, made from lightweight composite materials.
It can work both as a "small boat" – using integrated inflation/ emergency breathing system, as well as fully submerged up to 100 m SDV, moving easily over 7km/h (2m/s).
DPC is a development project which started in 2018, going through several concept prototypes.
The first testing of DPC II was in 2019. This unit type used an independent battery and two Seacraft technology thrusters, 1kW each.
A special big hull provides very good comfort for the diver and allows reaching 120-130m/min speed.
In 2021 we reached 2,5kW of nominal power from each of the thrusters. Construction was optimized for transport, modularity, and easiness of transportation and maintenance and usage.
180m/min, and 1400N of thrust highly benefit from the built-in auto-pilot aid to support the driver.