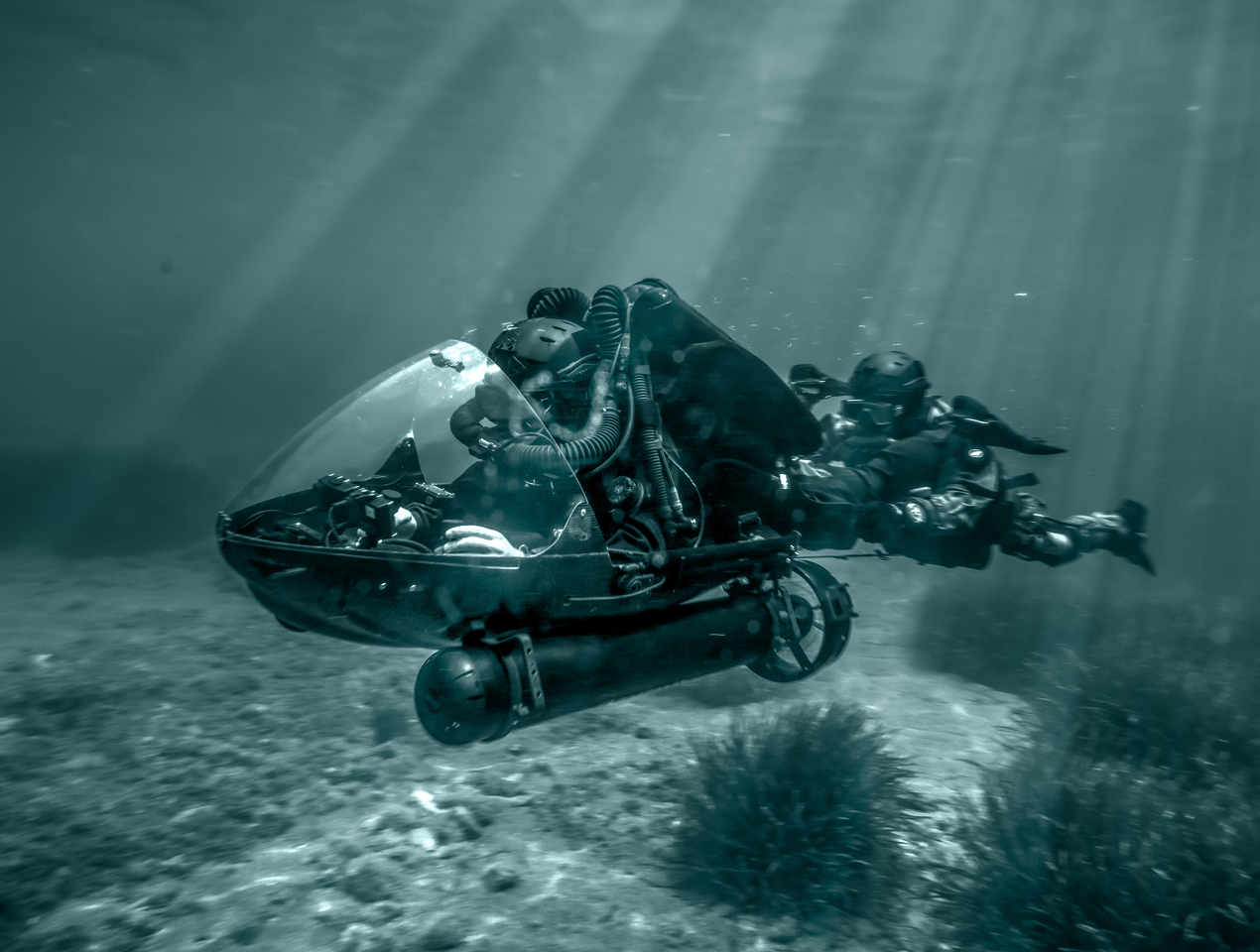 Diver Propulsion Craft
DPC is an answer for fast, lightweight, long-range, multi-use (surface and underwater) transport vehicle. In order to move faster underwater, we created a fully hydrodynamic shielded high-power craft, made from lightweight composite materials. It can work both as a "small boat" – using integrated inflation/emergency breathing system, as well as fully submerged up to 100 m SDV, moving easily over 7km/h (2m/s).
DPC – Diver Propulsion Craft is a development project that started in 2018 and went through several conceptual stages and a very large number of intensive trials and tests in difficult natural conditions. In the 4th generation of the DPC, an unusually large static thrust of over 1300 N (over 132 kg) was achieved.
The first testing of DPC II was in 2019. This unit type used an independent battery and two Seacraft technology thrusters, 1kW each.
A special big hull provides very good comfort for the diver and allows reaching 120-130m/min speed.
DPC IV is reaching an underwater speed of 180m/min and can easily transport underwater even larger than 6-people combat diving teams or very large cargo containers.
The unit has a built-in ENC3M navigation system and autopilot assistance (Direction Hold system) to support the driver during long missions. The DPC can cover up to 20 km at a constant speed underwater of 120 m/min. At speeds comparable to those achieved by regular scooters, the unit can drive for several hours and reach ranges over 40-60 km.
Thanks to the research, the design has been optimized in terms of the comfort and safety of the diver, the possibility of transport, modularity, ease of maintenance, and use. A precisely designed hydro shield provides very high comfort for the driver and his team and increases the system efficiency by extreme reduction of drag.
One of the many innovations is the use of the new thruster system. It utilizes two independent SDPV (Super DPV) units, which can be also used independently, thanks to which the customer receives several configuration options in one.
SDPVs can be used as single – DPVs, or coupled in dual unit platforms.