Project name:
Cave exploration projects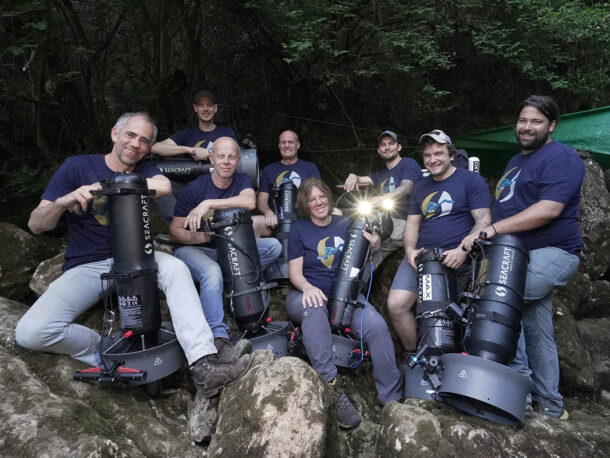 Meanwhile Cavebase exists for over 15 years. Cavebease is a non-commercial group of passionate underwater cave explorers who are specialised in complex projects which only can be executed in a team. Most of the project locations are very remote. Cavebase's standardised configuration allows to explore all types of caves with just one configuration. The configuration therefore allows to explore caves all over the world and supports very demanding dives of up to 15hrs dive time.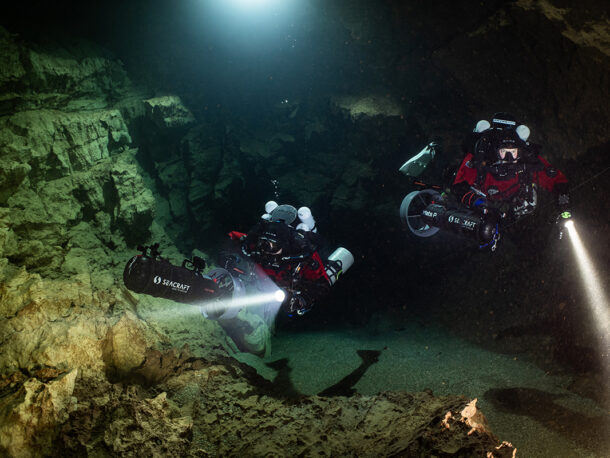 Cavebase

exploration projects
2008-2009 Exsurgence de Gourneyras (France)
2009 Exsurgence de Gourneyras (France)
2010 Cabouy (France)
2011-2012 Krepoljin Krupajsko Vrelo (Serbia)
2012-2014 Gourneyrou (France)
2015 Modric (Croatia)
2015 Zecica (Croatia)
2015-2016 Bilpa (Slovenia)
2017 Foux De La Vis (France)
2018 Source du Castor (France)
2018 Mine "Felicitas" (Germany)
2019 Source du Castor (France)
2020 Kefalonia (Greece)
2021-2022 Exsurgence de Gourneyrou (France)
CaveBase

SEACRAFT
We are focusing a lot on demanding and challenging cave dives at very remote locations, meaning taking the equipment to those locations can be very exhausting – therefore we are depending on the lightest, but most powerful equipment on the market. With seacraft we found a manufacturer who exactly matches our needs. They are extraordinarily reliable, low weight, equipped with external lights and its torque is effectively not noticeable at all, which makes the dive even more enjoyable. For us are those scooters a massive relieve and enabling us to push the limits even a bit further. Seacraft is very innovative – we are looking forward what's comming next!