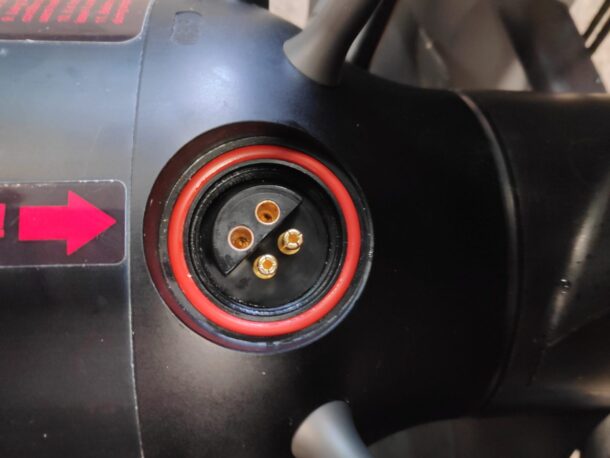 Hermetic charging port was designed in order to improve security of using external E/O power outlet.
It is reverse- compatible  with all Seacrafts, resulting in possibility of installation if user is afraid of forgetting to close charging port cap properly.
Hermetic port can be installed by any Seacraft service center. In order to convert the unit, both- DPV charging socket, and charger's connector need to be modified.
It is a custom made system with gold plated pins, capable of working with high charging currents, and providing mechanical separation between pins.
Seacraft tested it's water-tightness up to 100m (opened port), however any water contact may cause pin's degradation and corrosion, thus it is rather a additional security against water-created damages.
In case of using E/O outlet, and sealing problem/ cut cable, it will secure the unit from flooding.
In order to seal properly, the used charging socket cap need to account for protrusion of hermetic port- simply speaking, it has to be a little bit shorter.
Compatible charging socket cap is recognized by a factory- made hole in it (for cord/bungee attachement).
In case of upgrade, cost for or- modification, or- replacement for matching standard should be accounted.
Hermetic charging port installation with charger connector replacement
D1003
180 EUR
Pricing
Pricing does not include taxes (VAT) or shipping and packaging. Pricing is valid for the EU countries, and presented in Euro currency. For other countries please contact directly our Dealers or Distributors. Please note that it is presented as indication only.
Hermetic charging socket

Support