The 4.0 Software released
The 4.0 software for Seacraft FUTURE and GHOST scooters has been officially released. The new operation mode simplifies setting the DPV parameters, as scooter triggers can be used as menu controls, in addition to the piezoelectric gear buttons.
The newest version of the software brings several new and unique functionalities as compared with earlier versions.
There are two expert functions introduced –  Default Start and Bypass.
Default start allows setting a gear that will be set after turning ON the DPV. The gear in the range of 1-9 can be set as the default start function and it will allow running the DPV immediately after activation with the main switch.
Bypass is an extraordinary functionality, that is dedicated only to users whose life may be in danger in case of scooter malfunction and inability to return from the dive – for example, cave divers. In case of steering handle electronic's malfunction/ damage, the DPV main circuit board will activate previously set gear after DPV restart.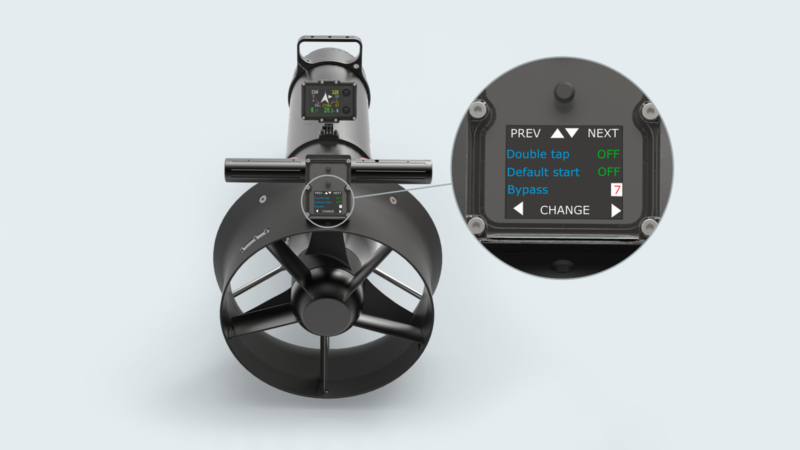 The 4.0 software will be installed in all newly purchased scooters. For customers who have scooters with software version 3.0, the update will be available at authorized Seacraft service points.
Update to 4.0 version is not mandatory. You can still use your scooters with software 3.0 without any issues, however, we recommend updating your software with your annual service inspection and unlock new features and functions.
All Seacraft scooters can be modified, in order to work with 4.0 software, however, it is required to install a TFT screen and its electronics if your scooter has a lower software version than 3.0.
Software 4.0 is required to connect Modular Air-Travel friendly battery in scooters FUTURE models.
To find out more about the new 4.0 software please read the dedicated user manual:
https://support.seacraft.eu/index.php/article-categories/software-guide-v4-0/